Mike Newcomb '68 is an avid supporter of Vanguard University. A President's Circle member, mentor to our Grad Ed students, and former VU basketball team member, Mike feels Vanguard is a second home. He and his wife, Mary Ellen, live in Orange, California.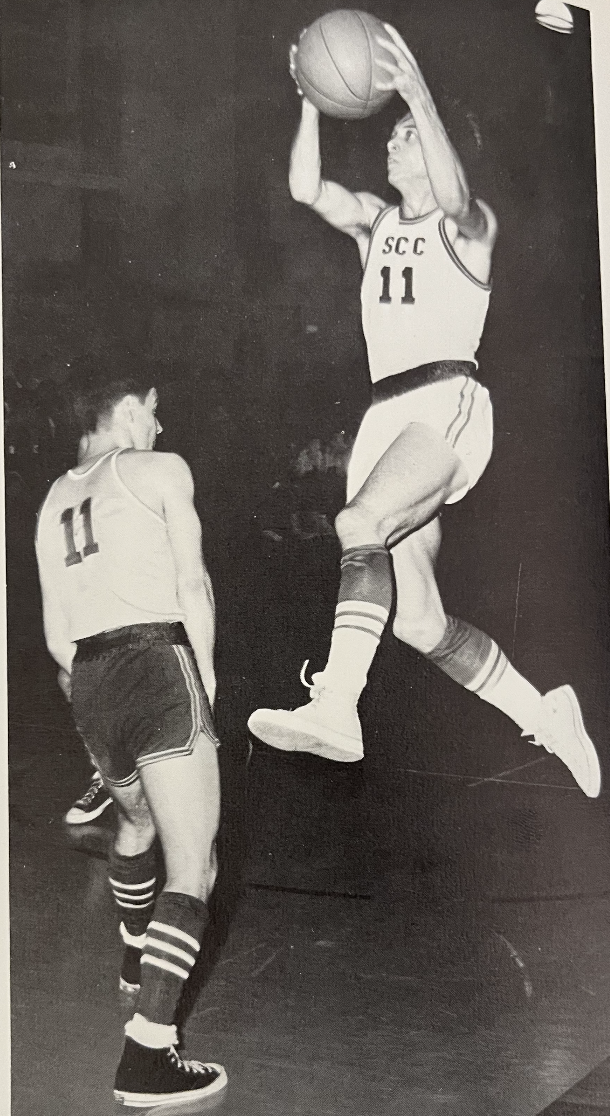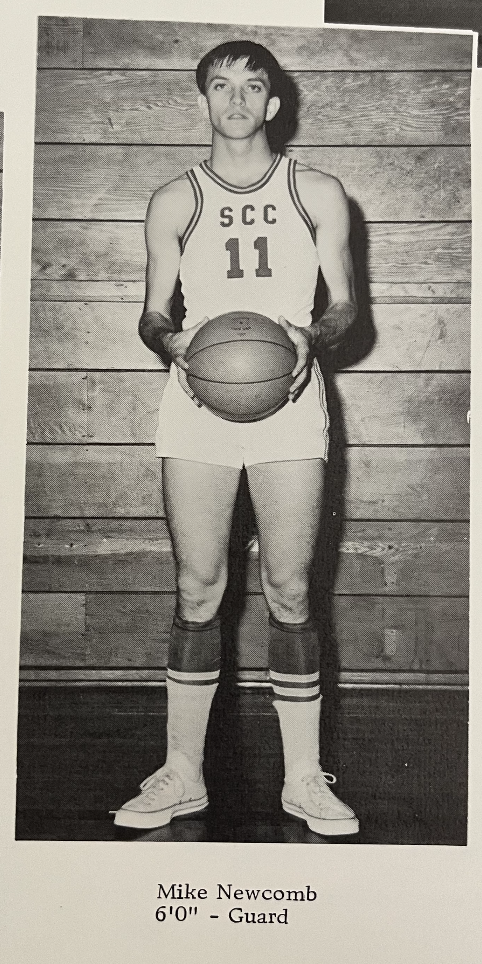 What scholarships did you receive as a student?
I received a $100 scholarship for playing basketball and cross country. In 1966, every dollar counted! The money helped me stay in school.
How did being on the basketball team impact you as a student?
I came to SCC as a junior, after attending Cerritos College. I was a "walk-on" at SCC. We had pick-up games in the gym every day. Coach saw me playing one day and asked me to try out for the team, so I did. As a player on the team, I had the feeling of being a true part of the school community. We were expected to be Christians that represented SCC that played basketball.
Would you share a favorite story or anecdote from being on the basketball team? The day I realized a skinny, 5'11" kid could dunk was a memorable experience! The old floor in The Pit had a bounce to it, so it made it easier to dunk
Describe the Vanguard community.
We are a community that I have been a member of for 54 years. Many that I met are still friends, or rather, family.
Share an example of how you were cared for as a student by a faculty or staff member.
Two of the professors I met in 1966 were Gordon Fee and Dennis McNutt. They really connected with their students. You could ask any of their students–even today– how appreciative we were of their care for each of us. Dr. McNutt remains a friend of mine. I remember Dr. McNutt joined our group in the dorm leading us in one of our devotions. The very fact that I am sharing almost 60 years later validates the power of the Vanguard community.
Share an example of how you were cared for as a student by a faculty or staff member.
Dr. McNutt and most of the professors made you feel as if they truly cared for each of us. After I graduated, we remained friends at church and even playing basketball and softball together.
Do you have a favorite Vanguard memory?
One of my favorite memories was sitting in class with Dr. Fee as he taught Intro to New Testament and experiencing the Holy Spirit settling on our class. We felt as if we were walking with Paul on his missionary journey.
How were you different from when you started at VU than when you graduated?
During my two years at SCC/Vanguard I believed I left a more mature Christian, still much to learn but I look back on that time as building a foundation that I still have today.
What excites you about Vanguard University?
I believe that Vanguard still has that impact on their students, each student has the opportunity to leave with a Christian foundation found in very few places.
Why do you choose to support Vanguard University?
I believe that Vanguard still provides the support I received, and I want to support Vanguard's effort to produce Christians that impact our culture, community, and families. I find it reinforcing my belief when I read and see students coming out of Vanguard impacting our community for Christ. My university continues to move forward with a vision to bring Christ to the world, community and families.
How do you describe VU to people who are not familiar with it?
I have pride when I share my time at SCC/Vanguard. I find it interesting that people in the Costa Mesa/Newport community have never said a negative word about VU students. Many even comment that they wish they had been given the opportunity to attend Vanguard.
What is your prayer for VU?
My prayer is that VU will never stop educating Christian young people that impact our world.