As an Assistant Professor of Mathematics, Tom Shirey '83 is known for his humor, patience, and genuine care for students. Outside of the classroom, Tom frequently partners with campus outreach programs and devotes much of his summers to visiting VU alumni and classmates on epic road trips. Tom is a champion for VU having been a President's Circle member for many years.
What scholarships did you receive as a student?
In my freshman and sophomore years, I received a music scholarship; I was a vocalist in the traveling group, the Vanguards. As a senior music major, I received the Ralph Carmichael Scholarship Award (Ralph Carmichael was a 1947 alumnus of SCC and head of the Music Department at one time).
How did your scholarship impact your experience at Vanguard?
Traveling and performing with the Vanguards was one of the highlights of my college experience. Working with Noel Wilson (our director) and the other talented students in the Vanguards was a great way to learn and grow my own ministry in music, and I still have many of the friendships I made during that time.
The Ralph Carmichael Scholarship Award meant so much to me as a musician. I grew up singing and playing many of his songs in church during the '60s and '70s, so it was a great honor for me to receive an award named after someone I admired musically. In my sophomore year, he came and spoke to our Musician's Guild. For me to meet someone as talented and revered in the secular and Christian music industry as him was amazing. He was such a humble and Godly man!
What would you say to those who provided scholarship dollars to you?
THANK YOU! THANK YOU! THANK YOU! You will never know how much your donations and gifts impacted my life and impacts the lives of our students working and studying to achieve their goals and dreams! Wait until the Lord shows you the storehouses you've set up in Heaven–THEN you'll know the impact you've made!
Describe the Vanguard community.
Throughout my life, I've seen the Vanguard community from many different viewpoints: as a student, alumnus, staff member, adjunct professor, and full-time professor. We aren't just a group of people studying and working in the same place; we are a fellowship of believers, each with different lives and important roles–students, professors, administrators, coworkers, alumni–and we have a common goal: to further the Kingdom of God.
When I started teaching here in 2008, there were five people that I had had as professors 25 years prior who were still teaching: Dr. Larry McHargue '72, Dr. Dennis McNutt '59, Dr. Murray Dempster '68, Dr. Jerry Camery-Hoggatt '75, and Dr. Vince Gil '69. Vince was the last of the five to retire, and when he did, I told him that his leaving felt like I was losing part of my past. He said something to the effect of we all have to go sometime, but don't think of it as losing part of your past–I'm just passing the torch onto you, and someday, you will pass the torch onto some of your students who will continue the legacy that is Vanguard. This is my 14th year at VU, and already there are a few of my former students who are now teaching here. And when I go, I'll pass the torch onto them. That's community.
How were cared for as a student by a faculty or staff member?
There's a dozen or more faculty and staff who had a major impact on my life while I was a student at SCC/VU: Art and Betty Price, Dr. Murray Dempster, Dennis and Charlotte McNutt, Noel and Ruth Wilson, Vince and Mikki Gil, to name a few.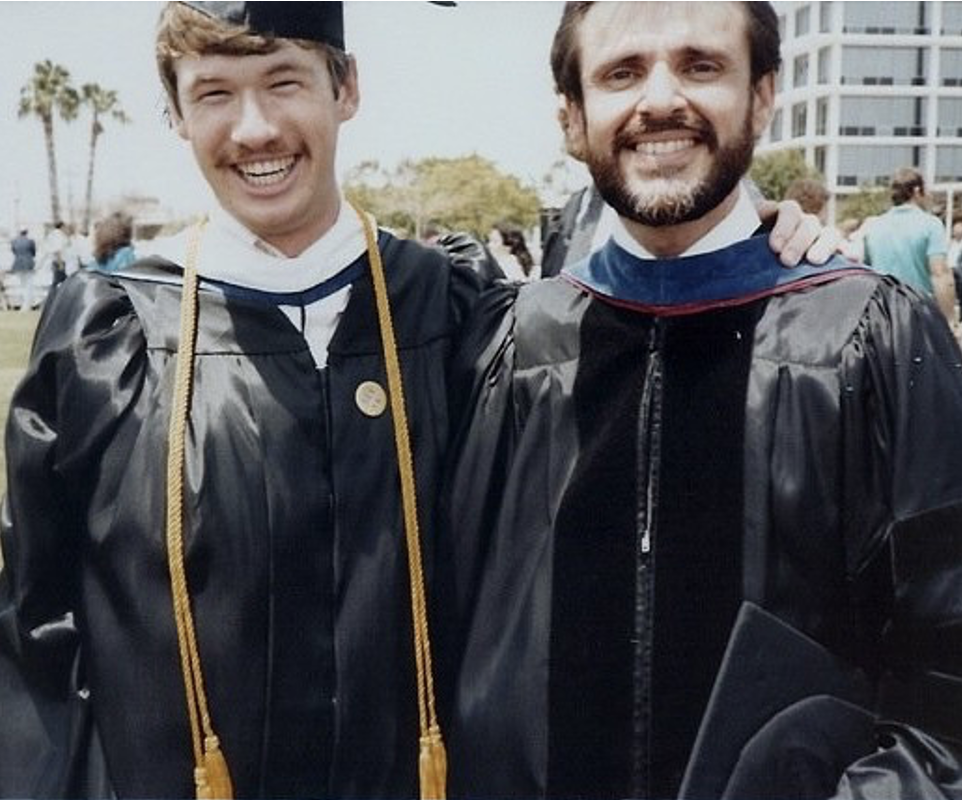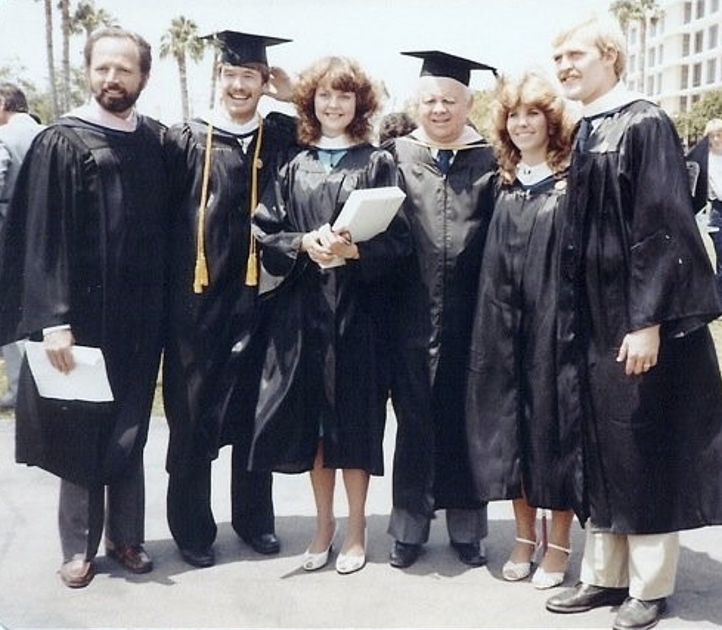 Professor Edwin Elliott, my music theory professor, cared for me as a student and throughout the rest of his life. I had the privilege of working as a teacher's assistant for him for two years. Professor Elliott was blind. Through him, I learned about people with disabilities and about the viewpoints of others (and myself) toward those with disabilities. The Elliotts' son and daughter also attended SCC while I was there, and they always made me feel like I was part of their family.
When Professor Elliott passed away in 2015, his daughter asked me if there was anything I would like to have from their estate sale. I chose the two chairs that Edwin and Martha were given when they retired from teaching at SCC/VU. I still have those chairs in my office now.
What is your favorite Vanguard memory? 
This is like asking a parent, "who's your favorite child?" One of my favorite memories is the graduation of the class of 1983, because ours was the very last SCC graduating class to hold the graduation ceremony in the Scott building courtyard. We had a small enough class to be able to seat the professors, administrators, and Jack Hayford, our graduation speaker, on a small stage; the graduating class sat in the center of the courtyard (around the planters that used to be there); and the families of the graduates sat behind the class and packed onto the second-floor balconies. I laugh about it now because with today's standards, it would probably be considered a fire hazard to have that many people packed into such a small tight space, but every time I walk through the Scott courtyard, I'm reminded of our graduation.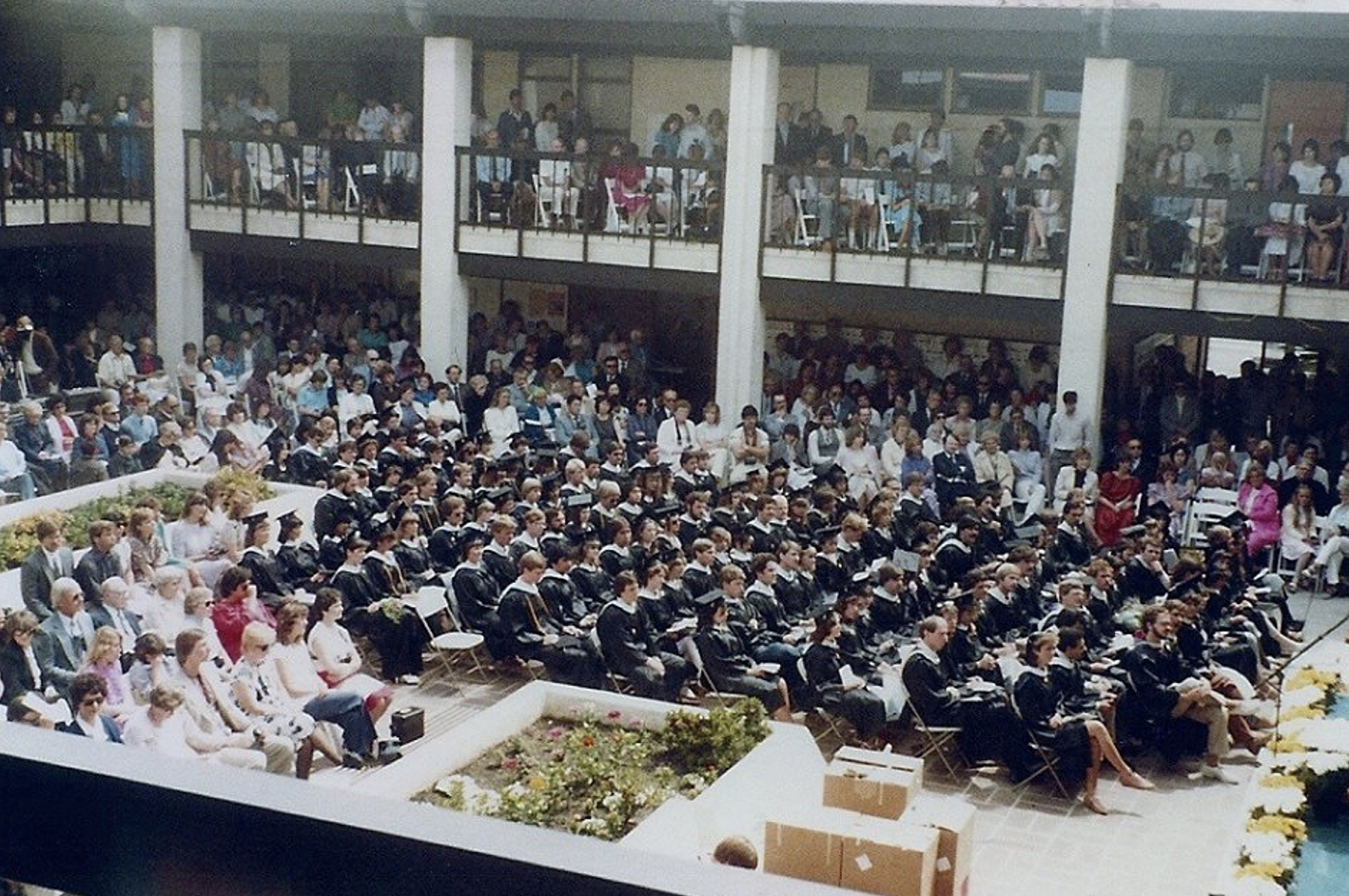 What excites you about Vanguard University? 
The STUDENTS! I love their energy, their outlooks on life, their anxiousness, their anticipation, their eagerness to learn, their hopes, their dreams, even their fears and struggles. I love it when a student comes up and tells me that they are on the volleyball team and their first game is Friday, or that they landed the lead in the school musical and how their face lights up when I tell them I'll be there to watch them perform.

My favorite thing is when I see the "Aha moment." I teach math and I understand the issues and struggles students have with math, so when I see the light bulb come on in a student who has had a tough time grasping a concept, it makes it all worthwhile for me; this is why I teach. And fortunately for me, I get to teach at Vanguard, the place that taught me how to teach!
Why do you choose to support Vanguard University?
I choose to support Vanguard because it's my way to give back to the place that gave me so much when I needed it: lifelong friendships, great support, and a solid education. When I see students in the same place I was 40 years ago, struggling to make ends meet, staying up all hours working on assignments or projects, singing or playing their very best in a performance, pushing themselves to their physical limits on the track, courts or fields, working on experiments in their white lab coats and goggles, or even just eating and laughing with their friends in the Caf, I know the time and energy I put into my teaching and the contributions I give to VU are making a difference in their lives.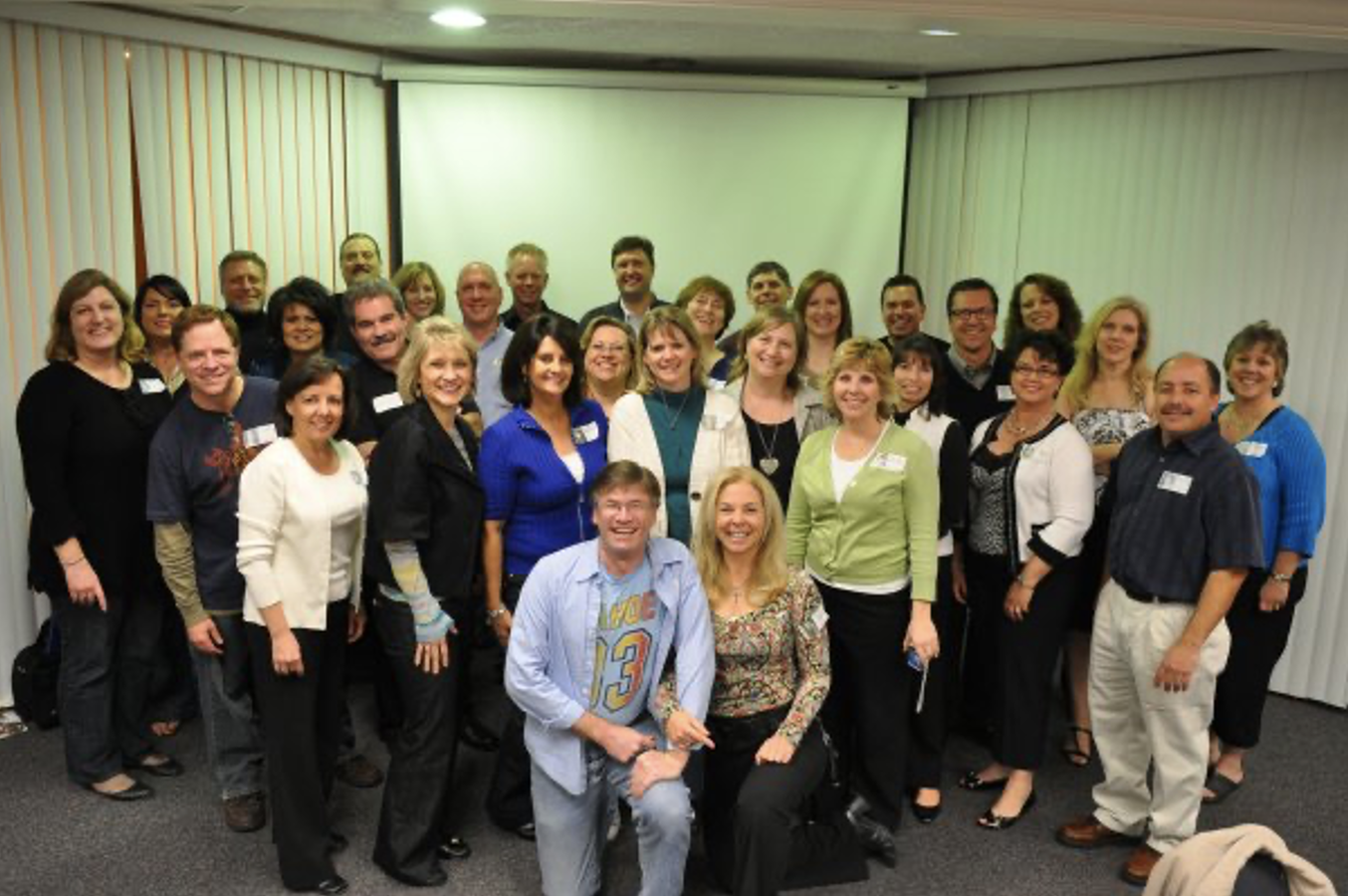 How is VU impacting our world for Christ? 
I see how VU is impacting our world every day on a bulletin board in my office, where I pin up postcards and articles from my former students. Nate Dorman '13 left VU and joined a worldwide surfers' ministry, traveled the world surfing and ministering to surfers; he and his wife, Paula, are now co-pastoring H2O Church in Huntington Beach. David Hoffman '12 and his wife, Tesia, run a powerful ministry that brings the Gospel to the streets and campuses in Tucson, Arizona. Josh and Kyla Ransom '16 are missionaries serving the Lord in Kenya, Africa. Adrian Michael '13 and his wife, Hayleigh, are in Central America where he is teaching leadership training seminars for leaders and pastors in the Caribbean and the US. These are just a few of the thousands of VU students who are spreading the Gospel and impacting the world every day.