Vanguard Announces the Naming of the Patty Arvielo School of Business and Management
Vanguard University is excited to announce the naming of the Patty Arvielo School of Business and Management, adding the latest phase to our recent academic restructuring into multiple Schools and a College of the Arts and Sciences. The Arvielos have partnered with Vanguard's vision in sponsoring the largest academic donation in the university's 103-year history.

A surprise unveiling of the new school's name took place in the Waugh Student Center at 10 a.m. on April 19 to an unsuspecting Patty Arvielo and nearly 800 cheering students, faculty, staff and supporters—a "take your breath away" moment for both the Arvielos and the Vanguard community.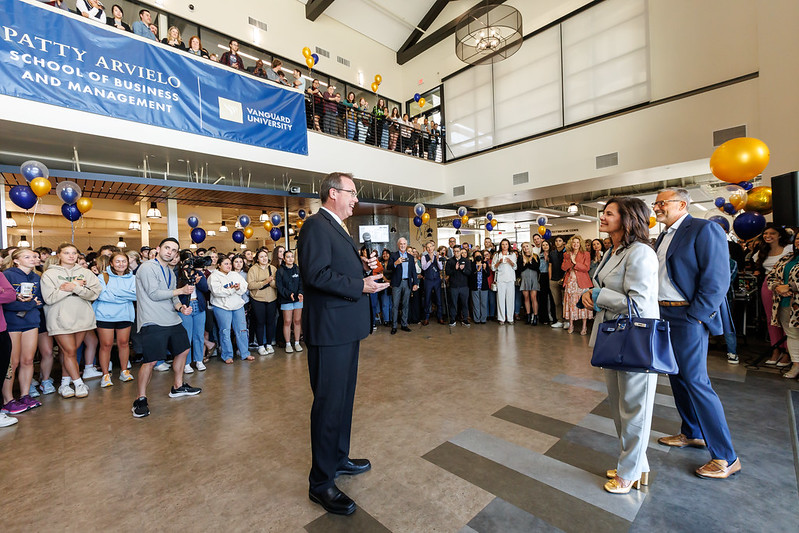 "I've never been so surprised in my life," said Patty Arvielo, teary-eyed after the reveal. "For someone who didn't think she was smart—or fit the profile of what smart means in America—my story is important and I share it to empower you. Because that's what this country offers and that is why our grandparents and parents came to this great country, to offer us the opportunities to succeed! I'm so blessed to be here with my husband, my kids, my friends and coworkers. I love this with all my heart. And now, I have more familia—so thank you."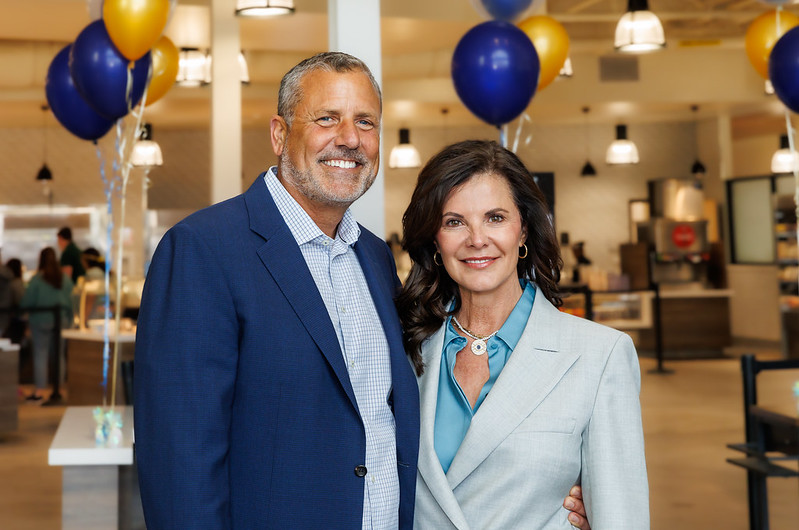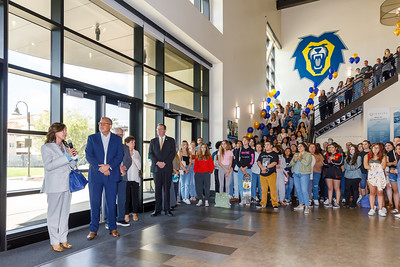 "At this moment of growth for Vanguard University, we are grateful for the support and partnership of the Arvielos," said VU President Michael J. Beals, Ph.D. "We are honored to align our business programs under Patty Arvielo's name because of who she is—a phenomenal business leader and role model for Hispanic, female and all students whose life story and work demonstrate what is possible. We recognize the impact that Patty Arvielo's namesake and support will have on generations of students as Vanguard prepares them for a life of Christ-centered leadership and service."

At the surprise announcement, third-year VU business student Kaitlyn Velazquez also shared what the Arvielo's recognition personally means to her. "As a Latina pursuing a career in business, it is so inspiring to be able to feel represented by someone who has made a name for herself in the pathway [of business that] I have always dreamed of. Knowing how much my parents sacrificed in order to best set me up for success, and seeing everything that Mrs. Arvielo has accomplished, gives me even more hope for my future in this field."

Building on Vanguard's Legacy
The establishment of the Patty Arvielo School of Business and Management comes as the business program celebrates its 50th anniversary. With degree programs in accounting, business administration, management and marketing, business has remained the highest enrolled academic program at VU for the past few decades. The new Patty Arvielo School of Business will officially launch in the 2024-2025 academic year and will serve undergraduate and graduate residential, distance and non-traditional students in business, communication, organizational psychology and people operations.
Immediate steps for the launch of the Patty Arvielo School of Business and Management include the appointment of a transitional dean, recruitment of anchor faculty, and a national search for the founding dean by Fall 2024. The transformational gift from the Arvielos will build upon VU's legacy over the past five decades of preparing students to become leaders in business by combining Christian faith, in-depth knowledge and character development with a strong liberal arts foundation. The gift will allow VU to build upon its success to establish a missionally-aligned, market-focused, compelling, innovative and impactful school in the heart of Orange County that will develop tens of thousands of competent, character-rich business leaders prepared to make a positive impact in a complex and rapidly changing world. The gift will help fund endowed faculty chairs, endowed student scholarships, new faculty, market analyses and the launch of graduate programs, online course development, career preparation programming and the launch of a Master of Business Administration (MBA) in 2025.
First Business School in the U.S. to be Named After a Latina
The establishment of the Patty Arvielo School of Business and Management marks a significant milestone for Hispanic women nationally, as it is the first school of business in the United States to be named after a Latina. As the daughter of a proud Mexican immigrant mother, Patty Arvielo is a self-made, award-winning entrepreneur.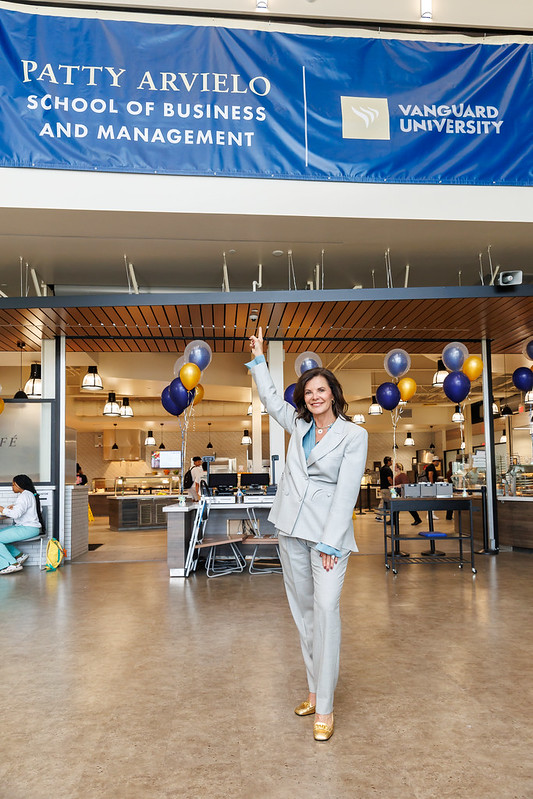 She began her career at age 16, learning the mortgage industry from the ground up before co-founding New American Funding in Tustin, California in 2003 and growing it into one of the largest independent mortgage lenders in the country and the largest Latina-owned private mortgage company in the nation, with a servicing portfolio of over 241,000 loans for $63.9 billion. The company's Latino Focus and New American Dream initiatives were launched by Patty Arvielo with the goal being to enhance the quality of the lending experience for Latino and Black homebuyers.
Vanguard's History as an Hispanic-Serving Institution and Recent Academic Restructure
VU was designated by the U.S. Department of Education as an HSI in 2015—then only the second four-year institution in Orange County to receive this designation. Today, 47 percent of VU undergraduate students are Hispanic, 68 percent are students of color, and 35 percent are first-generation college students. Vanguard has received several Title V Developing Hispanic-Serving Institutions Program grant awards from the U.S. Department of Education—$2.6 million in 2015, $3.8 million in 2017 and $2.75 in 2020—intended to expand educational opportunities, academic offerings and programming for Hispanic and all students.

Earlier this year, VU announced a transition in its academic structure and leadership, establishing multiple Schools and a College. The Patty Arvielo School of Business will house the accounting, business administration and marketing programs, and will launch officially in Fall 2024. The College of the Arts and Sciences will house the core of Vanguard's academic offerings, including the humanities, social sciences, performing arts, STEM and allied health programs; the School of Theology and Ministry will offer undergraduate, non-traditional and graduate programs in theology and ministry; and the School of Education will offer programs including liberal studies, early childhood education, the teaching credential program and graduate education.
About Vanguard University
Founded in 1920, Vanguard University in Costa Mesa is a private, Christian, comprehensive university of liberal arts, sciences and professional studies that encompasses more than 2,200 students from every region in the country, over 33,000 alumni worldwide, 100 full-time faculty, over 30 undergraduate programs and six graduate degree programs. A hallmark of a Vanguard education is collaborative scholarship in the arts and sciences, which foster the intellectual development, moral maturity and spiritual vitality of its students for the public good. Rooted in a strong academic tradition and commitment to student success, Vanguard University is recognized by the U.S. News & World Report 2023 rankings as a first-tier regional university in the West, a Top Performer on Social Mobility, a Best College in the West for Veterans, a Best Value School and a Best Bachelor of Science in Nursing (BSN) Program. Vanguard University represents a diverse student population, with 68 percent students of color, 47 percent Hispanic and nearly half of students the first in their family to attend college.
Categories