Serving Christ and the Community
For more than 100 years, Vanguard University has equipped students to serve God and sent them throughout the world to serve others for His glory. Today, that work continues through the Office of Global Education and Outreach (GEO), which is comprised of several programs that focus on speaking and showing the life, hope, and truth found in Jesus.
GEO encourages and mobilizes students to apply what they learn in the classroom to serve in the US and around the world, engaging in the Great Commission. From building friendships with the more than 20,000 refugees in Orange County to trekking in the remote villages of Indonesia, students learn that Jesus can use them right now.
One program that continues to make tremendous global impact is short-term missions. This summer, more than 20 students served across three missions trips. Eight Vanguard undergraduates traveled to Puerto Rico where they will work with Convoy of Hope, a nonprofit humanitarian and disaster relief organization that provides food, supplies, and humanitarian services to impoverished populations throughout the world; 3 traveled to the Navajo Nation to work with the Navajo Tribe to help provide human trafficking and domestic violence prevention training to local government and leadership; and 12 journeyed to Northern Ireland to work with Cornerstone City Church, an Assemblies of God church that Vanguard University has worked with for 10 years, and their "I Heart Derry" outreach program.
"We see many levels of impact from our short-term missions," said Assistant Director of GEO Katie Hiew. "Most commonly, it is a renewed faith in how God works in and through us in our everyday lives. In my time working with GEO, I've seen hundreds of students take a leap of faith and sign up for trips they did not think they could financially afford, and I've seen God time and time again step in and provide the funding for them. Then I get to see the bountiful fruit that comes from those students knowing so tangibly how God has provided for them and sharing that good news with others."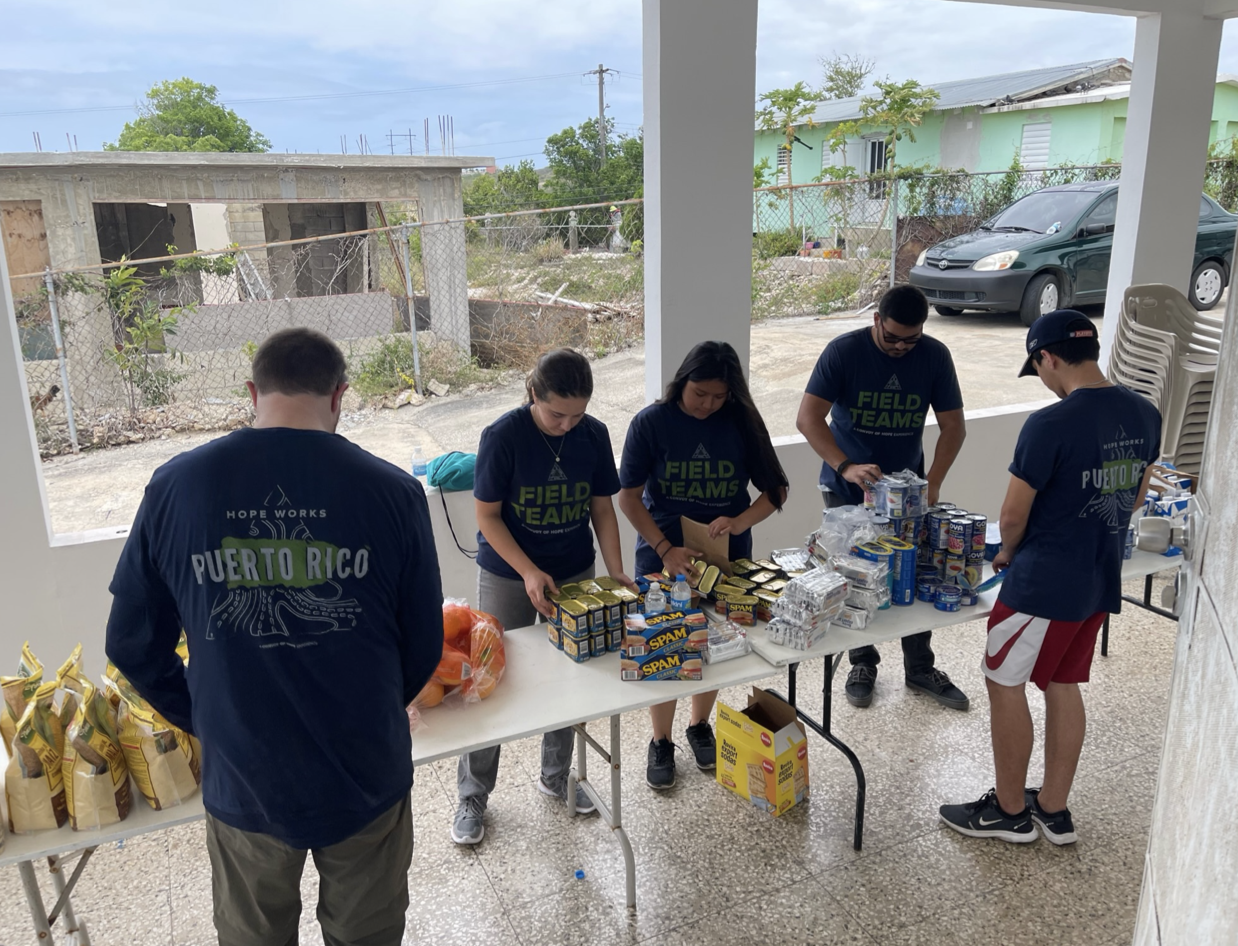 Olivia Cunningham '23 traveled to Puerto Rico as a part of a Convoy of Hope team serving in the community of Ponce, in the south of the island. Her team participated in constructing a community center. On the trip, Olivia said she "felt a personal transformation. I felt myself surrender to God with a willingness to be present, to slow down, and not worry about the next task."
"I continually witnessed God moving, not only in me but also in my teammates and the community we were there to serve. He challenged each of us to take steps out of our comfort zone, learn new things, and be open with those around us," said Cunningham.
A strength of Vanguard's missions program is in the continued commitment to serve the same missionaries and churches around the world, serving with the same people while building lasting relationships. New trips also are added as they become available.
"It's incredible to witness students called to the mission field," said Hiew. "Just this summer, a student who thought she wanted to become a missionary went on one of our trips, and it confirmed the calling in her life. She decided to pursue missions as a vocation more confidently because she experienced it and now sees the way God can use her in the world. Other students go with a willingness to serve and come home with a new sense of how everyday life can turn into missions work just by loving our neighbors and community around us."
You can support Vanguard missions by:
Praying for students and leaders to reduce the anxiety of travel, vanquish the spirit of fear, and that program coordinator will have wisdom to know where and when to send groups.
Making a gift that will remove the financial barrier that often prevents students from going on a missions trip.
Joining an outreach trip and serving alongside teams. Those interested can reach out to the GEO team at

[email protected]

.
Related: Mission in the Name of Jesus
Categories