Vanguard University celebrates 10 years of transformational leadership under the presidency of Michael J. Beals, Ph.D. Since beginning his tenure as the university's 10th president on August 1, 2013, Dr. Beals has worked with the board of trustees, faculty, staff, and supporters of the university to lead Vanguard into its second century and position the university for continued growth and impact.
As president, he has enacted a bold vision for Vanguard to become the leading source of Christian higher education in California. Through pursuit of this vision and the accompanying student-focused strategies of access, affordability, success and facilities, the university has transformed in many ways.
During President Beals's tenure, VU expanded its academic programs, increased graduation rates, raised record philanthropic support, transformed the residential campus, strengthened the endowment and net assets, and ascended in national rankings—all the while remaining committed to its longstanding mission "to equip each student for a Spirit-empowered life of Christ-centered leadership and service."
"I have been a part of the Vanguard community for 46 years as a student, professor, and administrator. I have always been inspired by the consistent faith and faithfulness of those who have served and led Vanguard since 1920," said Beals. "I am honored to have served our beloved university over these last ten year with a front row seat to God's guidance and provision."
Philanthropic, Financial, and Campus Growth
Under Dr. Beals's leadership, VU has fundraised $54 million, including receiving the largest philanthropic gift in history—a $10 million gift toward the Freed Center for Leadership and Service, as well as the largest academic gift in school history to endow the Patty Arvielo School of Business and Management.
At the same time, VU has experienced unprecedented growth in net assets and endowment. Net assets have grown 412 percent throughout 10 years, starting with $13.75 million in fiscal year 2013 and increasing to $70.4 million today. During this time period, the university endowment has grown over 257 percent.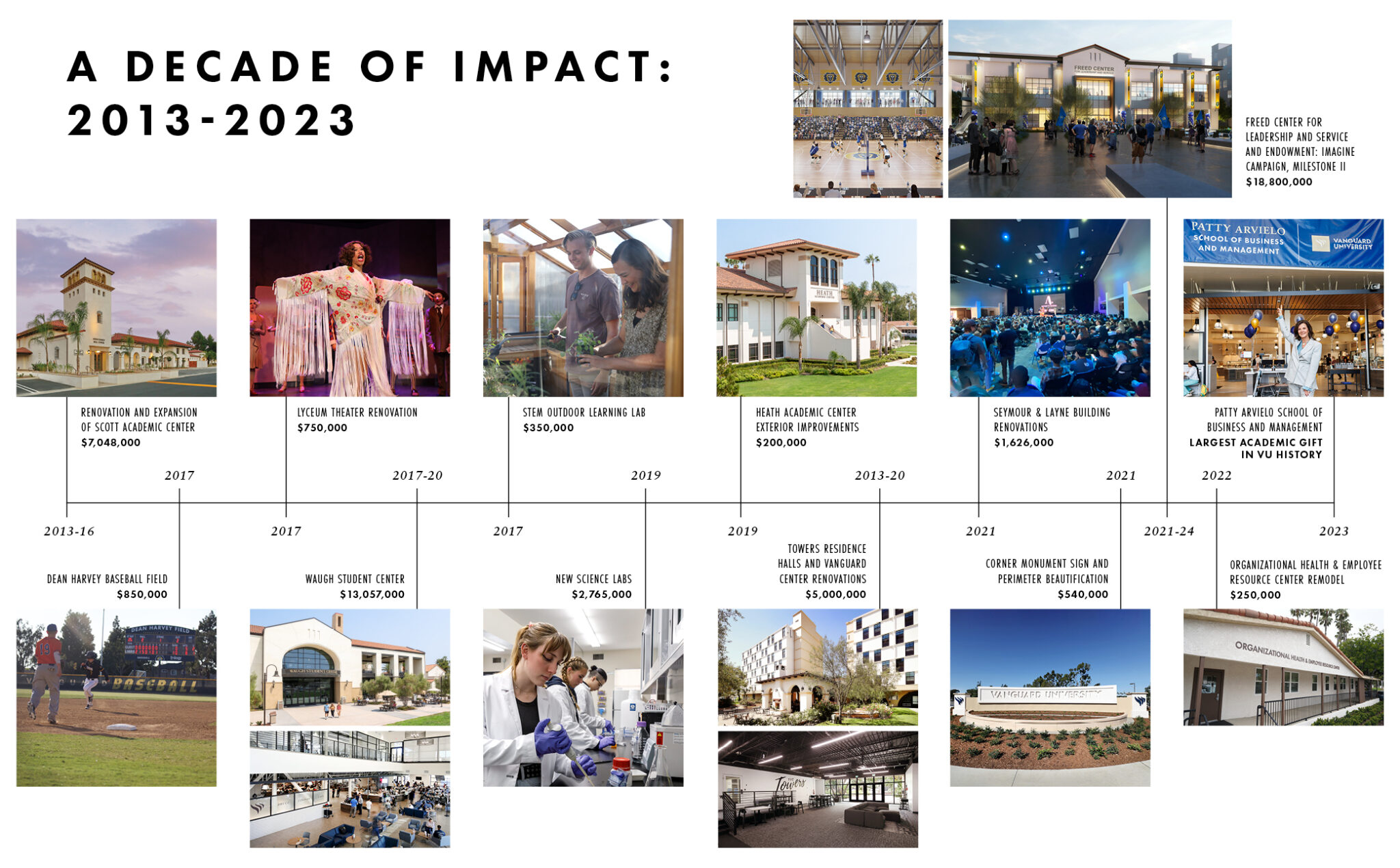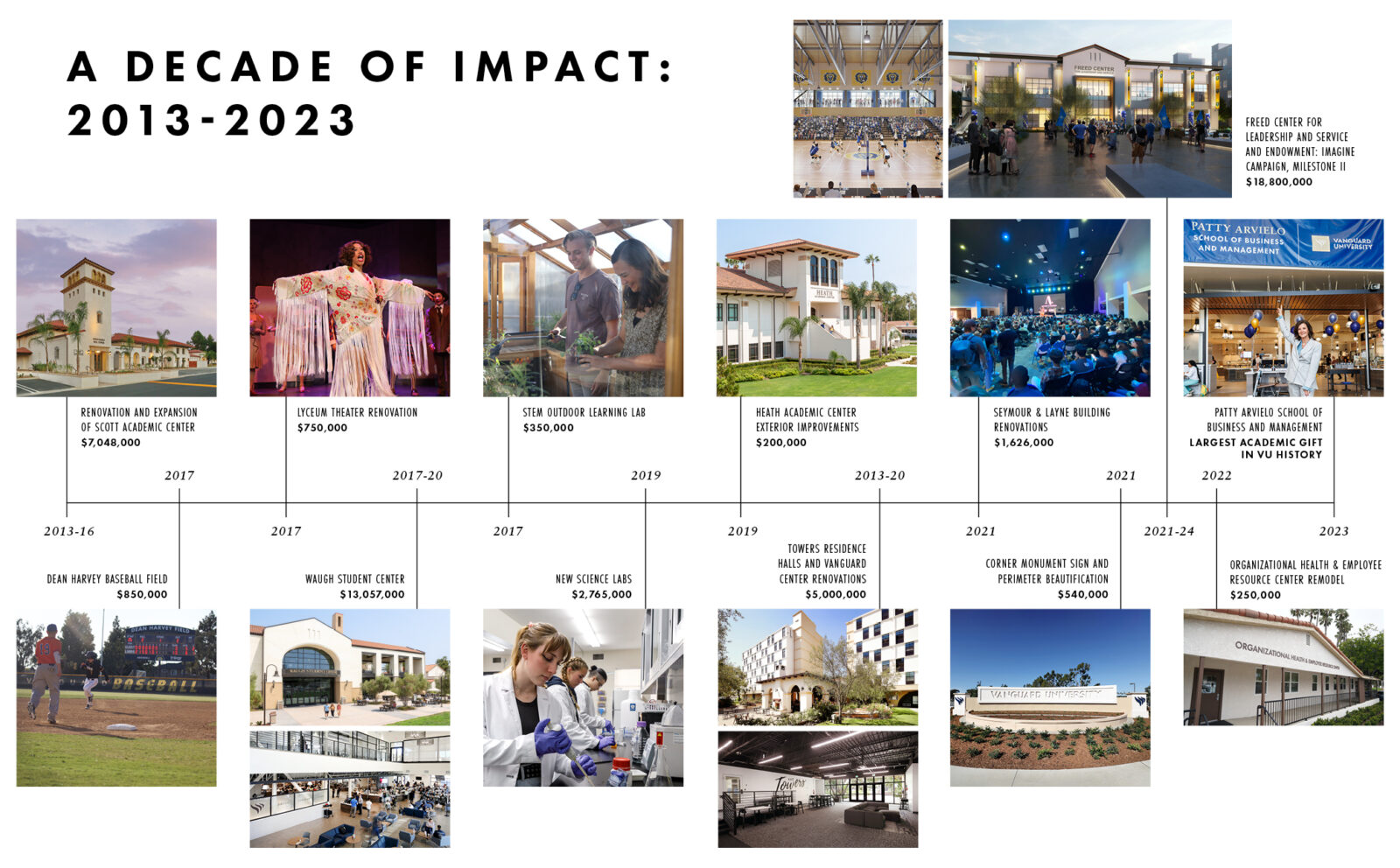 The residential campus has also experienced rapid transformation. Providing facilities that match the quality of a Vanguard education has been a key theme of President Beals's tenure.
Renovations and new development of facilities and campus environments include:
Renovation and three-story expansion of Scott Academic Center
Renovation and naming of the Dean Harvey Baseball Field
Renovation and expansion of the Lyceum Theater
New science laboratories and Outdoor Learning Lab
Opened Santa Ana campus to offer graduate and professional degree programs and a community counseling center
Exterior and interior renovation of the Towers Residence Halls
In 2019, the City of Costa Mesa approved VU's first-ever campus master plan—establishing a long-term vision for the campus. During President Beals's tenure, VU also added 165,295 new building square feet to the campus.
Student Enrollment, Rankings, and Athletics
During the past decade, traditional undergraduate enrollment saw a 15 percent growth during his tenure, an anomaly in the sector nationwide. In fall 2022, VU welcomed its largest incoming freshman and transfer class in history.
VU has added more than a dozen academic majors and programs to bolster academic excellence. VU has also consistently ascended in U.S. News and World Report rankings—today, the university is ranked #35 as a "Best Regional University, West", #13 Top Performer on Social Mobility, and #28 Best Value School.

In athletics, VU added nine men's and women's sports, and doubled student-athletes from less than 200 to more than 400. In 2023, the athletics program was granted provisional membership in the National Collegiate Athletic Association (NCAA) Division II and will join the Pacific West Conference. Additionally, VU Lions have taken four team national championships and four individual national championships since 2013.

"Looking ahead, I am a full of joy and confidence that Vanguard's best days are ahead," said Beals.